Welcome!  I am blessed to be considered as part of your journey in cultivating healing and wholeness!
I am excited about healthy relationships and communities. While some of our deepest wounds occur relationally, I believe that healing can also happen in relationship. I hope to create a warm and safe environment that allows for healing to occur and to overflow in your life and relationships.
My therapeutic style employs a blend of authenticity, playfulness and a deep respect for my clients' lives and stories. My approach is holistic, attending to the physical, emotional and spiritual components of people. In therapy, I pay special attention to the many pieces that make up my clients' lives – individual traits; family relationships; school, work, and community dynamics; spiritual and cultural influences.
I see a diverse range of clients, including children and adolescents, adult individuals, families, and couples. I am also available for marriage preparation with premarital couples and am a PREPARE/ENRICH facilitator. I have an interest in working with individuals and families who have experienced trauma and am trained in Eye Movement Desensitization and Reprocessing therapy (EMDR).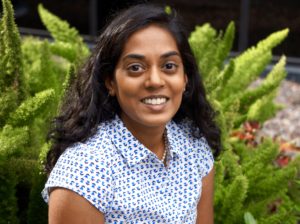 I received a Master of Arts in Marriage and Family Therapy from Wheaton College in Illinois and a Bachelor of Science in Psychology and Human Biology from the University of Toronto in Canada.
In my spare time, I enjoy spending time with my husband and son; cooking for friends, and being in nature.
I am a Licensed Marriage and Family Therapist Associate under the supervision of Amy Fuller PhD, LMFT-S, LPC-S and Dr. Timothy Parker, LMFT-S.  I office at Fuller Life LOOP and offer Saturday and online availability.  More information on our core values, location, services, affordable fees and new client information and intake forms.
Contact Information
To schedule an appointment please email tamara@fullerlifefamilytherapy.org, call me directly at (832) 685-2050 or fill out our secure confidential form.
Read articles by Tamara: